Anyloan Australia
:: Calculators
Plant & Equipment Lease Calculator
Use this calculator to estimate the monthly repayments for leasing plant and equipment under finance
Business Asset Lease Details: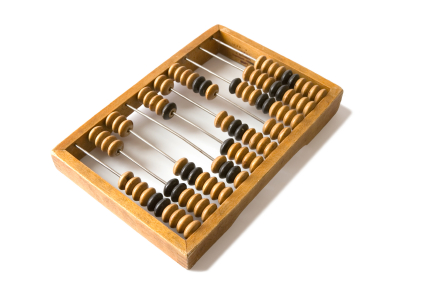 Important!
Business Asset Lease Interest Rates differ from lender to lender and will depend on your individual circumstances (credit history, employment status, age, etc.). To find out if you qualify ... and for a free, personalised interest rate and repayment quote, please CLICK HERE
Business Asset Lease Amortization Calculator
The following amortization graphs detail month-by-month data on the progress of the proposed loan. The first chart below examines the reducing loan balance over the course of the finance contract term. The second graph illustrates the portion of each monthly repayment allocated to payment of interest vs principal reduction.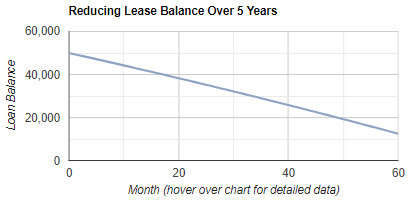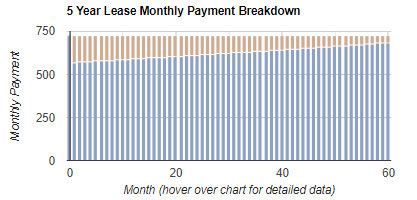 How to Buy a House with Bad Credit


Most people would expect that a bad credit rating would make it impossible to get a mortgage to buy a home - but it's not as simple as that. Can you buy a house with bad credit? The short answer is YES, but it is not all that easy.

- read more
Car Leasing


Leasing is an often misunderstood car financing option so, in response to subscriber feedback, we've included this article to help give you a better understanding of what it is and how it works.

- read more
18 Hot Tips For Intending Borrowers


If you're thinking of borrowing money to buy a car, boat, debt consolidation, home repairs, medical bills or anything else for that matter, here are some red hot tips to make the process much, much easier.

- read more
How Credit Card Balance Transfers Can Damage Your Credit Rating


Since the banks and finance providers have been castigated for the way they seemingly indiscriminately awarded credit to people who could ill afford it, the chances of being accepted for loans and credit cards have decreased. Concurrently, there is a greater focus on individual's being aware of how credit works and what their financial behaviors means in terms of a credit score and history.

- read more
5 top tips when buying a used car in Australia


Buying the right second-hand car can be a bit of a minefield – from finding a model that fits your needs and budget - to negotiating the best deal with the seller, but with a few tips and tricks, it can be made a lot easier and less stressful.

- read more
Loan Finance: How to Shop Around Without Damaging Your Credit


If you are considering taking out a loan, you wouldn't go out of your way to make it harder on yourself to get approved or to get a good interest rate, would you? Yet many loan applicants would enjoy a considerably better outcome on their loan application if they followed this important rule.

- read more
Managing Credit Card Debt


If your credit card debt is starting to get out of control - or you simply want to know how to avoid potential credit card pitfalls, you are not alone. Managing credit cards is a problem faced by many who are now drowning in an ocean of debt. Here are some simple strategies that may be of help.

- read more
Default and Reposession


Most people would assume that a default under a loan contract means that payments haven't been made but, as you are about to learn, there are other reasons why a lender may have the right to repossession.

- read more
Find out now if you qualify and compare rates, offers and options from multiple lenders - without a credit check!
All finance quotes are provided free (via our
secure server
) and without obligation.
We respect your
privacy.
Debt Consolidation:
A means empoyed to renegotiate debt. By combining loans and outstanding bills, a person can consolidate debt with a single financial institution resulting in a single monthly repayment.